PLENARY SPEAKERS
For a full list of speakers and panelists, view the symposium program
Keynote Speaker
Pete Wilson, Former Governor of California

Bringing more than 30 years of dedicated public service as governor of California, U.S. senator, mayor of San Diego and California state assemblyman, Pete Wilson is a principal in Bingham Consulting, based in the firm's Los Angeles office. He is also of counsel at Bingham McCutchen LLP. With a deep knowledge of policies, people and processes of government at all levels, he counsels that today's successful businesses need to work with governments – not only in Washington, D.C. – but with state and local governments to anticipate and avoid regulatory compliance problems. As governor of California from 1991 to 1999, he is credited with leading California from the depths of recession to prosperous economic recovery.
Keynote Speaker
James Lee Witt, Former Director of FEMA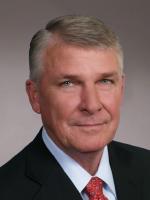 As FEMA Director, Mr. Witt coordinated federal disaster relief on behalf of President Clinton, including the response and recovery activities of 28 federal agencies and departments, the American Red Cross, and other voluntary agencies. He also oversaw the National Flood Insurance Program, the U.S. Fire Administration, and other proactive mitigation activities that reduce loss of life and property from all types of hazards. Mr. Witt directed 2,500 employees located in Washington, DC, and 10 regional offices. From 1993 to 2000, Mr. Witt oversaw more than 350 disasters. More importantly, he was responsible for response and recovery operations for some of the most devastating disasters of all time, including the most costly flood disaster in the nation's history, the most costly earthquake, and a dozen damaging hurricanes.
Keynote Speaker
Dave Jones, California Insurance Commissioner

Elected on November 2, 2010 with 4.7 million votes. Commissioner Jones leads the California Department of Insurance (CDI), the largest consumer protection agency in the state, which regulates the $123 billion insurance industry. Jones served in the California State Assembly from 2004 through 2010, where he chaired the Assembly Health Committee, the Assembly Judiciary Committee and the Budget Subcommittee on Health and Human Services. Named "Consumer Champion" by the California Consumer Federation in 2008, Jones was also awarded the "Leadership Award" by the Western Center on Law and Poverty. Planned Parenthood, Environment California, the Urban League, Preschool California and CalPIRG have all honored his work.
Speaker
Janiele Maffei, California Earthquake Authority

Janiele Maffei joined the California Earthquake Authority as Chief Mitigation Officer in May 2011. She is responsible for the mitigation plan that includes the California Residential Mitigation Program and the development of comprehensive guidelines for the retrofit of single family dwellings. Maffei is a graduate of UC Berkeley, where she obtained her AB degree in Architecture and an MS in Civil Engineering. Ms. Maffei is a registered structural engineer who has worked in the earthquake engineering industry for over 30 years. Her experience includes the design of new building structures and seismic strengthening of existing structures. Ms. Maffei is past-president of the Northern California Chapter of the Earthquake Engineering Research Institute, EERI. She also serves on the Board of Directors of EERI National as Secretary-Treasurer.
Earth Science and Seismology
Lucy Jones, US Geological Survey

Dr. Lucy Jones has been a seismologist with the US Geological Survey and a Visiting Research Associate at the Seismological Laboratory of Caltech since 1983. She currently serves as the USGS Science Advisor for Risk Reduction while also leading the SAFRR Project: Science Application for Risk Reduction, to apply USGS science to reduce risk in communities across the Nation. Authoring over 100 papers on research seismology with primary interest in earthquake statistics and integrated disaster scenarios, Dr. Jones is most recently known for creating and leading innovative research projects like ShakeOut Earthquake Scenario and the Great ShakeOut. She serves on the California Earthquake Prediction Evaluation Council and was a Commissioner of the California Seismic Safety Commission from 2002 to 2009. Dr. Jones received a Bachelor of Arts degree in Chinese Language and Literature from Brown University and a Ph. D. in geophysics from MIT.
Ground Motions and Ground Failure
Jonathan P. Stewart, University of California, Los Angeles

Jonathan P. Stewart, PhD, PE, is Professor and Chair of the Civil & Environmental Engineering at UCLA. His technical expertise is in geotechnical earthquake engineering and engineering seismology, with emphases on seismic soil-structure interaction, engineering characterization of earthquake ground motions, seismic performance of levees and other embankments, and seismic ground failure. Results of work by his research group are widely utilized in engineering practice, including the NEHRP Provisions, ASCE-7, and ASCE-41. He is a former Chief Editor for the ASCE Journal of Geotechnical and Geoenvironmental Engineering and is the current Editor of Earthquake Spectra. His research team has produced 19 Ph.D. graduates since 2001 and over 70 journal articles since 1995.
Lifelines and Utilities
Craig A. Davis, Los Angeles Department of Water and Power

Craig A. Davis, PhD, PE, GE, is the Geotechnical Engineering Manager for the Los Angeles Department of Water and Power, Water System and is responsible for managing geotechnical and earthquake engineering, and overseeing nearly a billion dollars in the dam and reservoir development and Water System seismic improvement programs. He is a California licensed Civil and Geotechnical Engineer and received a B.S. from the California Polytechnic State University in San Louis Obispo, CA, and a Ph.D. from the University of Southern California. He has worked for the LADWP since 1987. Dr. Davis serves on the National Earthquake Hazards Reduction Program (NEHRP) Advisory Committee on Earthquake Hazards Reduction (ACEHR). He is the Executive Committee Chair for the ASCE Technical Council on Lifeline Earthquake Engineering.
Transportation Systems
Thomas A. Ostrom, Caltrans

Thomas A. Ostrom, MS, PE, has been employed with Caltrans Division of Engineering Services (DES) for 26 years. He has held various positions in the field of bridge design, construction and engineering management. He currently manages the Office of Earthquake Engineering, Analysis and Research. His responsibilities include; leading the Caltrans seismic research program, managing the development, implementation, and training of the earthquake engineering guidance and policy and managing the development and maintenance of Caltrans bridge engineering software. Prior to his current position, Mr. Ostrom has managed the bridge design work on the state highway system in the 22 Northern California counties from the San Francisco Bay Area north and east to the Nevada and Oregon borders.
Morning Policy Panel Moderator
John Bwarie, Stratiscope

For over 15 years, John Bwarie has been tapped by elected officials, business and community leaders, and non-profits as the point person for reaching & building targeted communities in Los Angeles and across the US. An expert in community engagement and strategic communications, John has founded organizations, led strategic planning efforts, created and presented trainings, and developed pubic programs. John is a founding partner of Stratiscope and had previously spent over a decade serving as a trusted staff member for local L.A. elected officials and as the Strategy & Communications Officer for the USGS SAFRR Project.
Morning Policy Panel
Bob Blumenfield, Los Angeles City Council

Bob Blumenfield was elected to the Los Angeles City Council in March, 2013. He represents the 3rd Council District, which spans the northwest portion of Los Angeles in the San Fernando Valley, including the communities of Canoga Park, Reseda, Tarzana, Winnetka and Woodland Hills. Public safety, emergency preparedness, beautification and traffic reduction are some of the key quality of life issues Bob fights for in his district. Prior to his election to the City Council, Bob served in the California State Assembly from 2008 – 2013 working for all of the San Fernando Valley communities he continues to represent.
Morning Policy Panel
Mitch Englander, Los Angeles City Council

Councilmember Mitchell Englander was elected to the City Council on March 8, 2011, representing Granada Hills, Northridge, Porter Ranch, Chatsworth, North Hills, Lake Balboa, West Hills, Winnetka, and parts of Encino, Canoga Park, Reseda and Van Nuys. He is Chair of the Public Safety Committee, Vice Chair of the Budget and Finance Committee, and a Member of the Planning and Land Use Management Committee. Mitch's top priority is public safety, and is committed to re-focusing the City on its core services, including public safety, infrastructure and planning. He is also an active LAPD Reserve Officer at Devonshire Division.
Residential Wood-Frame and Soft Story Buildings
John W. van de Lindt, Colorado State University

Dr. John W. van de Lindt is the George T. Abell Distinguished Professor in Infrastructure in the Department of Civil and Environmental Engineering at Colorado State University. Professor van de Lindt has led more than 30 research projects with many focused on seismic wood research and performance-based seismic design. As a result of these projects he has published 275 technical publications including more than 100 peer reviewed journal papers and 30 reports. He served as the Project Director for the NEESWood Project from 2005-2009 including leading the planning and testing of the full-scale six-story Capstone building on Japan's E-Defense shake table in Miki, Japan. Currently, Professor van de Lindt serves as the Project Director for the NEES-Soft Project whose full title is "Seismic Risk Reduction for Soft-Story Woodframe Buildings."
Concrete Buildings
Mike Mehrain, URS Corporation

Dr. Mehrain has 40 years of experience in structural design, seismic evaluations and retrofit design of buildings and industrial structures. He has performed sophisticated state of the art analysis and laboratory testing for performance evaluation and retrofit design of major concrete structures. Dr. Mehrain has special expertise in the application of the latest research in efficient and economical design and retrofit construction of buildings. This includes the use of new technology such as base isolation and energy dissipation systems. Dr. Mehrain has participated in the development of numerous "performance based" engineering guidelines.
Steel Buildings
Thomas A. Sabol, Englekirk Institutional

Since 1985, Adjunct Professor Tom Sabol has been on the faculty of UCLA's Department of Civil and Environmental Engineering where he teaches courses in earthquake engineering, tall building design and structural steel. He is also a principal of Englekirk, a Los-Angeles based firm focusing on structural, earthquake and wind engineering. Tom received his B.S. in Architectural Engineering from Cal Poly, San Luis Obispo, his MS and PhD in Structural and Earthquake Engineering from UCLA, and his MBA in finance from Loyola Marymount. He is a professional or structural engineer in several states and is a registered architect in California.
Business, Insurance, and Financial Implications
Glenn Pomeroy, California Earthquake Authority

Glenn Pomeroy is the Chief Executive Officer for the California Earthquake Authority (CEA), which is dedicated to helping California homeowners prepare for damaging earthquakes through education, mitigation and insurance. During his first five years as CEO, he led a bipartisan legislative effort before the U.S. Congress to help reduce the cost of earthquake insurance, and worked to help further diversify and expand its claim-paying resources through the first earthquake-only catastrophe bond issued without involvement of traditional reinsurers. He also facilitated the introduction of CEA's new Homeowners Choice product line offering consumers greater control over their earthquake premium, implementation of a statewide average rate reduction, and the creation of research-based marketing and mitigation programs.
Afternoon Policy Panel Moderator
Leslie Chapman-Henderson, FLASH

As President and CEO of the nonprofit Federal Alliance for Safe Homes (FLASH)®, Leslie Chapman-Henderson is widely recognized for growing a small committee of volunteers in 1998 into the country's leading consumer advocacy organization for disaster safety. She has championed the disaster safety movement through groundbreaking awareness initiatives for homeowners, homebuilders and design professionals. Leslie has delivered keynote addresses for Fortune 500 companies, academic institutions, national associations and more. She has testified before the United Nations, US Congress and state legislatures as a subject matter expert on mitigation.
Afternoon Policy Panel
Tom LaBonge, Los Angeles City Council

Tom LaBonge's role as Councilmember for the Fourth District of the City of Los Angeles is the culmination of a lifetime spent in service to his native city. He has worked in some capacity for the City of Los Angeles for over three decades. For his years of advocacy, Los Angeles Magazine in 2009 dubbed LaBonge "Mr. Los Angeles." LaBonge first took office in 2001, in a special election to replace his friend and political mentor John Ferraro. He was subsequently re-elected in 2003 and in 2007. In 2011, he was re-elected for a final four-year term.
Afternoon Policy Panel
Raymond S. Chan, Los Angeles Department of Building and Safety

Mr. Raymond Chan is licensed as a Structural Engineer, Civil Engineer, General Building Contractor, and Real Estate Broker in the State of California. He has two Bachelor of Science degrees in Physics and Civil Engineering. Mr. Chan has 29 years experience with the City of Los Angeles, 23 in management positions, and is currently the Interim-General Manager for the Los Angeles Department of Building and Safety. He has been using innovative and collaborative leadership techniques to lead and direct the operations of four bureaus, approximately 900 employees, with a $110 million budget.
Friday Morning State Policymaker Panel
Ken Cooley, California State Assembly

Assemblyman Ken Cooley was elected in November of 2012 to represent California's 8th Assembly District. The district is comprised of the cities of Rancho Cordova and Citrus Heights, as well as the communities of Arden-Arcade, Carmichael, Clay, Foothill Farms, Gold River, Herald, La Riviera, Mather, McClellan Park, North Highlands, Rancho Murieta, Rosemont, Sloughhouse, Vineyard, and Wilton. Elected to Rancho Cordova's first City Council upon its formation in 2002, Cooley was re-elected in 2004 and 2008. He also served as mayor in 2005 and again in 2010 when his city was recognized as an All-America City.
Friday State Policymaker Panel
Mark S. Ghilarducci, Cal OES

Mark S. Ghilarducci serves as the Director of the California Governor's Office of Emergency Services (Cal OES), appointed July 1, 2013 by Governor Edmund G. Brown Jr. Ghilarducci previously served as Secretary of the California Emergency Management Agency (Cal EMA) appointed in February 2012 by Governor Brown. As a member of the Cabinet, Director Ghilarducci serves as the Governor's Homeland Security Advisor (HSA) and oversees statewide public safety, emergency management, emergency communications, counter-terrorism efforts and the State Threat Assessment System (STAS). His duties include serving as chair of numerous boards and committees and he sits on several state and national commissions and work groups.
Friday State Policymaker Panel
Anna M. Caballero, Business, Consumer Services and Housing Agency

Anna M. Caballero serves Governor Jerry Brown as a member of his cabinet and as Secretary of the Business, Consumer Services and Housing Agency. Her mission as Secretary mirrors her 34 year career fighting for working families. Caballero's responsibility as Secretary includes the oversight of departments charged with funding affordable housing, civil rights enforcement, banking and financial transactions, consumer protection, and the licensing of three million working professionals.