Robin & Albert Carnesale Commons Building, Palisades Ballroom, UCLA
Northridge 20 took place in the new Palisades Ballroom and accompanying breakout rooms at the University of California, Los Angeles.
The facilities are part of the newly-constructed Robin & Albert Carnesale Commons building, which is convenient walking distance from the core of the UCLA campus.
Directions and Transportation
Location on Google Maps
The UCLA campus is located in West Los Angeles, accessible from the nearby Interstate 405 and 10 freeways. The main campus is bounded by Sunset Boulevard on the north and Le Conte Avenue on the south; the east border is Hilgard Avenue and the west border is Gayley Avenue.
The closest major airport is Los Angeles International (LAX), approximately fifteen miles south of the campus. Driving time from LAX varies depending on the day of the week and time of day you are traveling. During non-rush hour traffic times, plan on about a 45-minute drive between the campus and LAX; during rush hour traffic, plan on an hour or more.
From LAX, take the 405 Freeway north to the Sunset Boulevard exit. Continue east on Sunset for several blocks, moving into the right hand lane. Enter the campus at Westwood Plaza and continue straight into Parking Structure 4.
Parking
Parking is complimentary to Northridge 20 attendees at Parking Structure 4. Inform the parking attendant that you have come for the Northridge Symposium.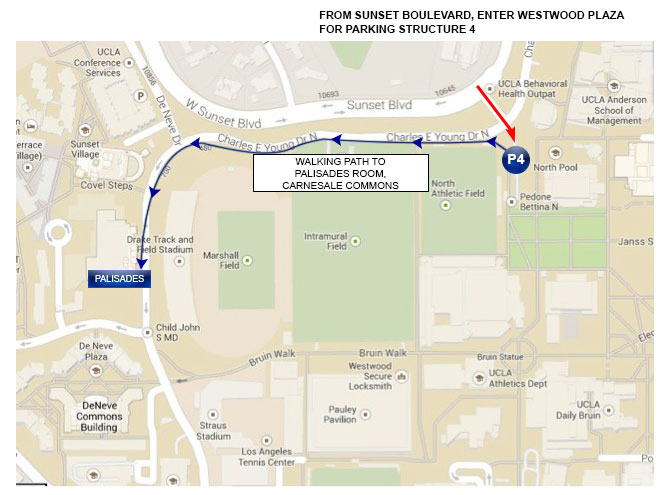 Accommodations
Hotel Angeleno
170 N. Church Lane,
Los Angeles, CA 90095
Tel: 310-476-6411
Special conference rate ($149/night) and offers a direct shuttle to the symposium venue.
Use this link to reserve at conference rate.
Directions/Map from Hotel Angeleno to UCLA Parking
Hilgard House Westwood Village Hotel
927 Hilgard Avenue
Los Angeles, CA 90024
Tel: 310-208-3945
Tel: 800-826-3934
Ramada Inn Royal Palace
1052 Tiverton Ave
Los Angeles, Ca 90024
Tel: 310-208-6677
(Two blocks from symposium venue)
W Hotel – Westwood
930 Hilgard Avenue
Los Angeles, CA 90024
Tel: 310-208-8765
Tel: 800-421-2317
www.wlosangeles.com
The Beverly Hilton
9876 Wilshire Boulevard
Beverly Hills, CA 90210
Tel: 310-274-7777
www.beverlyhilton.com